Social Media Marketing For Realtors
As a realtor, you may be wondering if social media marketing is worth your time. After all, you're already busy enough with showing properties and working with clients. But the truth is, social media can be a powerful tool to help you grow your business.

Here are four reasons why you should consider using social media for your real estate business:
1. You can reach a wide audience of potential customers.
2. It's a great way to build relationships with potential and current clients.

3. Social media can help you stand out from the competition.
There's no doubt that social media marketing is a powerful tool for businesses of all types, including real estate professionals. In fact, according to a recent study by the National Association of Realtors, 92% of realtors use some form of social media to market their business. But with so many different platforms and strategies to choose from, it can be tough to know where to start.

If you're a realtor looking to get started with social media marketing (or if you're already using social media but want to step up your game), here are some tips:
1. Use Facebook Ads
Facebook is one of the most popular social networks among adults, making it an ideal platform for reaching potential clients.
And with Facebook Ads, you can target your ads specifically to people who are in the market for buying or selling a home.
2. Create Helpful Videos
Video is increasingly becoming one of the most popular forms of content on social media.
And as a realtor, there are plenty of opportunities to create helpful videos that potential clients will appreciate. For example, you could create a series of short "how-to" videos about buying or selling a home or give virtual tours of properties you have listed for sale.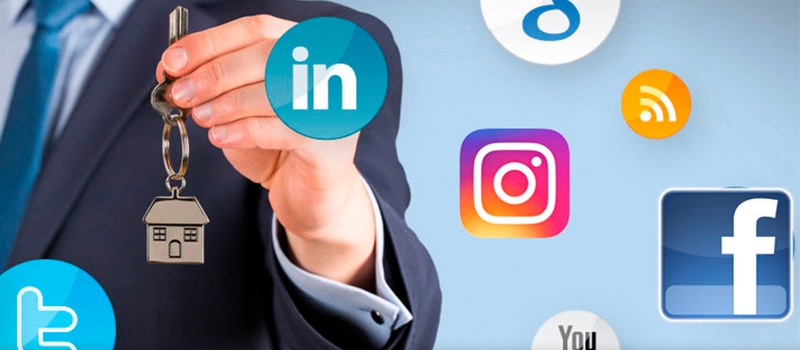 Credit: virtual-staging.archicgi.com
How Do Realtors Market on Social Media?
There are a number of ways that realtors can market on social media. One way is to post listings on sites such as Facebook, Twitter, and LinkedIn. Another way is to use social media to connect with potential clients and build relationships.

Real estate agents can also use social media to share industry news, tips, and advice. When it comes to marketing on social media, it's important for realtors to be strategic. That means posting content that is relevant and interesting to your target audience.

It also means being active on the platforms where your potential clients are most likely to be found. For example, if you're trying to reach first-time home buyers, you might want to focus your efforts on Instagram and Snapchat. If you're trying to reach empty nesters or retirees, Facebook might be a better platform for you.

No matter which platform you choose, make sure you're creating quality content that will resonate with your audience. And don't forget to add a call-to-action (CTA) so that people know how they can get in touch with you if they're interested in buying or selling a home.
What is the Best Social Media for Realtors?
There is no one-size-fits-all answer to this question, as the best social media platform for realtors depends on a number of factors, including the specific goals and objectives of the realtor, their target audience, and the type of content they wish to share. However, some of the most popular social media platforms for realtors include Facebook, Twitter, LinkedIn, and Instagram. Facebook is a great platform for realtors to share news and updates about their business, as well as helpful tips and advice for home buyers and sellers.

Twitter is also a good choice for sharing timely updates and newsworthy content, while LinkedIn can be used to build professional relationships with other industry professionals. Finally, Instagram can be used to showcase beautiful photos of property listings, as well as behind-the-scenes shots of the real estate industry.
What are the 4 P'S of Marketing in Real Estate?
In real estate, the 4 P's of marketing are product, price, place, and promotion.
Product: The first step in any marketing campaign is to identify your target market and understand what type of property they are looking for. For example, if you're trying to sell a luxury condo, you'll need to make sure your advertising targets wealthy individuals who are likely to be interested in high-end properties.

Price: Once you've determined who your target market is, you'll need to set a price that will attract buyers while still allowing you to make a profit. Pricing can be tricky, so it's important to do your research and consult with experts before setting a final price.
Place: Another key element of real estate marketing is choosing the right location for your property.

If you're selling a home in the city, for instance, it's important to make sure it's visible to potential buyers who are searching for properties in that area. Promoting your listing on popular real estate websites and using targeted online advertising can also help get your property in front of the right people. 
Promotion: Finally, once you have your product (property) priced correctly and located in the right place (visible to potential buyers), you need to promote it!

This can be done through online ads, open houses, broker caravans, print ads, direct mail campaigns really anything that will generate interest from potential buyers. With these four steps – product (identifying your target market), price (setting a competitive price), place (choosing the right location), and promotion (getting exposure for your listing) – you'll be well on your way towards successfully marketing your real estate property!
What Marketing Works Best for Real Estate Agents?
There is no definitive answer to this question as different marketing strategies work best for different real estate agents, depending on their individual goals and target audiences. However, some general tips that can help all real estate agents to market their businesses effectively include creating a strong online presence, developing targeted marketing campaigns, and building personal relationships with potential clients. Creating a strong online presence is essential for any business in today's digital world, and real estate is no exception.

A good website is the foundation of any effective online marketing strategy, so make sure yours is professionally designed and easy to navigate. In addition to your website, you should also be active on social media platforms like Facebook, Twitter, and Instagram. Use these platforms to share helpful information about the real estate industry, highlight properties that you're listing or selling, and engage with potential clients.

Developing targeted marketing campaigns can also be very effective in attracting new business. For example, if you're trying to reach first-time homebuyers, create a direct mail campaign specifically tailored to their needs and interests. Or if you're looking to attract more high-end buyers or sellers, develop an advertising campaign that targets these individuals specifically.

Whatever your target audience may be, make sure your marketing efforts are focused on reaching them directly. Finally, remember that personal relationships are still key in the world of real estate. While online tools and targeted marketing campaigns are important for spreading the word about your business, nothing beats meeting someone in person and developing a rapport with them.

Attend local events where you can network with potential clients, host open houses regularly so people can get to know you better, and always follow up after meeting someone new (whether it's via email or phone call).
Real Estate Social Media Marketing Templates
Are you a real estate agent looking to up your social media marketing game? If so, check out these three great social media templates that will help you close more deals and grow your business!
1. The Listing Presentation Template

This template is perfect for agents who want to showcase their listings in a professional and engaging way. It includes everything you need to present your listing in an appealing way, including photos, descriptions, pricing information, and more.
2. The Buyer Consultation Template

If you're working with buyers, this template is a must-have. It helps you guide potential buyers through the home-buying process while highlighting your unique value proposition. With this template, you'll be able to show buyers why working with you is the best decision they can make.

3. The Neighborhood Guide Template
Do you have clients relocating to a new city or neighbourhood? This template will come in handy!

It provides detailed information about the area, including schools, transportation, shopping and dining options, recreation and entertainment venues, and more. Plus, its visually appealing layout will make your guide stand out from the rest.
Conclusion
The post covers social media marketing tips for realtors. It discusses the importance of creating a social media strategy, being active on social media, and using platforms like Facebook, Twitter, and LinkedIn to generate leads.
Still, have questions?
Just fill up the contact form or call us at +88 01623128710 to get a free consultancy from our expert or you can directly email us at hello@webxtarlab.com. We would be happy to answer you.